Cart (

0

)
Recently Added

0

Item
Total

$0.00
The item you just added is unavailable. Please select another product or variant.

Cart (

0

)
Recently Added
Total $0.00
The item you just added is unavailable. Please select another product or variant.
Created to represent the inner strength that all women embody, Power 2 The Flower is a movement made up of dreamers, doers and makers.
By women and for women,
our main initiative focuses on empowerment through impactful enterprise. With 20+ years of expertise, we offer style, sisterhood and killer product. As a community of cause-driven creatives, we offer our knowledge and insight to amplify your voice and passion.With a goal of igniting conscious change,
giving back acts as the cornerstones of our mission.
Fortifying our foundation, Power 2 The Flower will donate a portion of all profits to non-profit organizations that benefit women around the world. Currently, we are partnered with Step Up.
OUR CAUSES
Step Up propels girls living or going to school in under-resourced communities to fulfill their potential by empowering them to become confident, college-bound, career-focused, and ready to join the next generation of professional women.
With a belief that all girls should have the opportunity to fulfill their potential,
Step Up aims to reach as many girls as possible.This year alone, Step Up served 1,400 girls nationally, with a 100% graduation and college acceptance rate in 2017. Having currently served over 6,000+ girls to date, Step Up is on track to serve 8,000 girls by 2020 nationally.
Step Up's national curriculum features afterschool programming for girls at their schools, mentorship dates and events offsite like Step Up's annual career connections conference.
For more information on Step Up, how they give back, or to get involved, click HERE.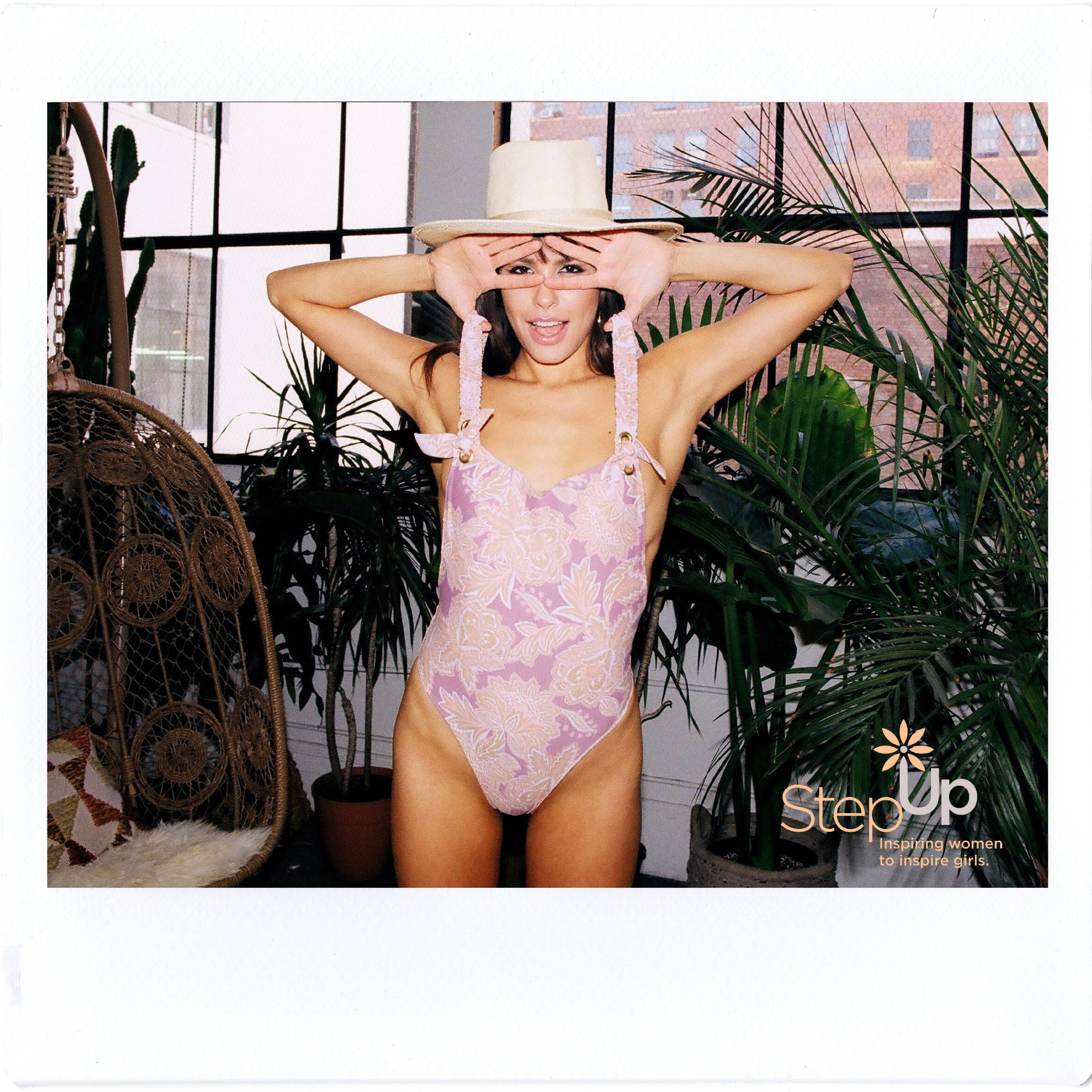 OUR LEADERSHIP
Power 2 the Flower is the creative brainchild of CEO Esther Maya. With the intention of creating an
inclusive, branded line
that would both celebrate and empower women, she appointed Sophie London as Design Director to help bring her vision to life.
In order to achieve their vision. they focused on accessibility. What was the point in creating a beautiful product if only a small percentage of women could afford it? With their concept in mind, the two began to create their collection, agreeing not to sacrifice the following four things:
design integrity, quality materials, fair costing and philanthropy.
Fueled by flower power, the twosome aims to offer you more than a bikini and some clever branding. Bringing their concept full circle, the P2F brand ultimately supports other women when they purchase through our e-commerce site.
Beyond giving back while helping your wardrobe bloom, P2F also acts as a platform for female entrepreneurs globally. Apply to be featured as a seller on our site HERE.
Esther & Sophie's Selects